The name 'Writing-PAD' is an acronym for Writing Purposefully in Art and Design
The Mission
---
Network
---
Events:

Cover Competition for 2018
The Writing-PAD Intellect Prize

We recently celebrated the 10th published year of the Journal of Writing in Creative Practice (JWCP) and the 15th year since the founding of the Writing-PAD Network. This competition is for a new journal cover image that incorporates our values, international perspective and focus on writing for creative practitioners.
JWCP is the published voice of the Writing-PAD Network, as such it's regularly guest edited by members of the network. See our mission statement here: http://writing-pad.org/Mission-Statement
There will be two prizes:
1st prize: £200 + I Intellect title (either a book, or personal journal subscription for 1 year)
2nd Prize: 2 x Intellect titles (either 2 books, or 2 personal journal subscriptions for a year, or a mix of both).
Specifications: The cover image should be 300dpi resolution, 177mm width, 1940mm height.
Deadline for this brief is 16 February 2018. One submission per person. Please submit your images with your name, institution and contact details to Dropbox.
Competition Judges: Julia Lockheart and John Wood will be joined by Paul Halliday, course leader of the MA in Photography and Urban Cultures at Goldsmiths, University of London, and Paul Duerinckx, Senior Lecturer in Photojournalism & Documentary Photography at Swansea College of Art, UWTSD
Paul Halliday is a photographer, film-maker and urbanist who originally trained in photojournalism and fine art film at the London College of Communications (LCC) and Central Saint Martin's Art College. He did postgraduate studies in social anthropology, archaeology and art history at Goldsmiths College and the Universities of Oxford and Cambridge. Paul's main focus is on urban and fine-art photography, documentary and fine art film, landscape and portraiture, urban ethnography, materialities and narratives of city life. He has worked on a number of long and medium-term photographic projects including a twenty-year project about London's streets and public places, a project focusing on urban objects and materialities, and a recently completed project about global spaces and the collapse of geographic certainty.
Paul Duerinckx is a documentary photographer based in Swansea. His practice is based primarily on documenting people and place with a specific interest in street photography and the evolving role of documentary photography as a constantly-shifting medium. Duerinckx has worked for various editorial and commercial clients including The Daily Telegraph, Express Saturday magazine, The Times, Nursing Times, and Meridian TV. He is a Senior Lecturer in Photojournalism & Documentary Photography at Swansea College of Art, UWTSD.
---
New Writing-PAD workshops for 2018!
Coming soon watch this space.
---
People
---
Consultancy
---
Journal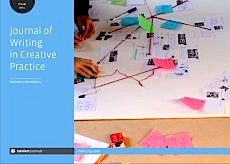 Our Journal of Writing in Creative Practice
---
Glossary of terms
---
Media
Writing-PAD on Facebook
Tag:

#WritingPAD

on TWITTER
Writing-PAD as a Blog
Writing-PAD Discussion
---
Archive of Events:
---
Archive
Find some of the downloadable texts taken from the original Writing-PAD Project site. (See Archives)^